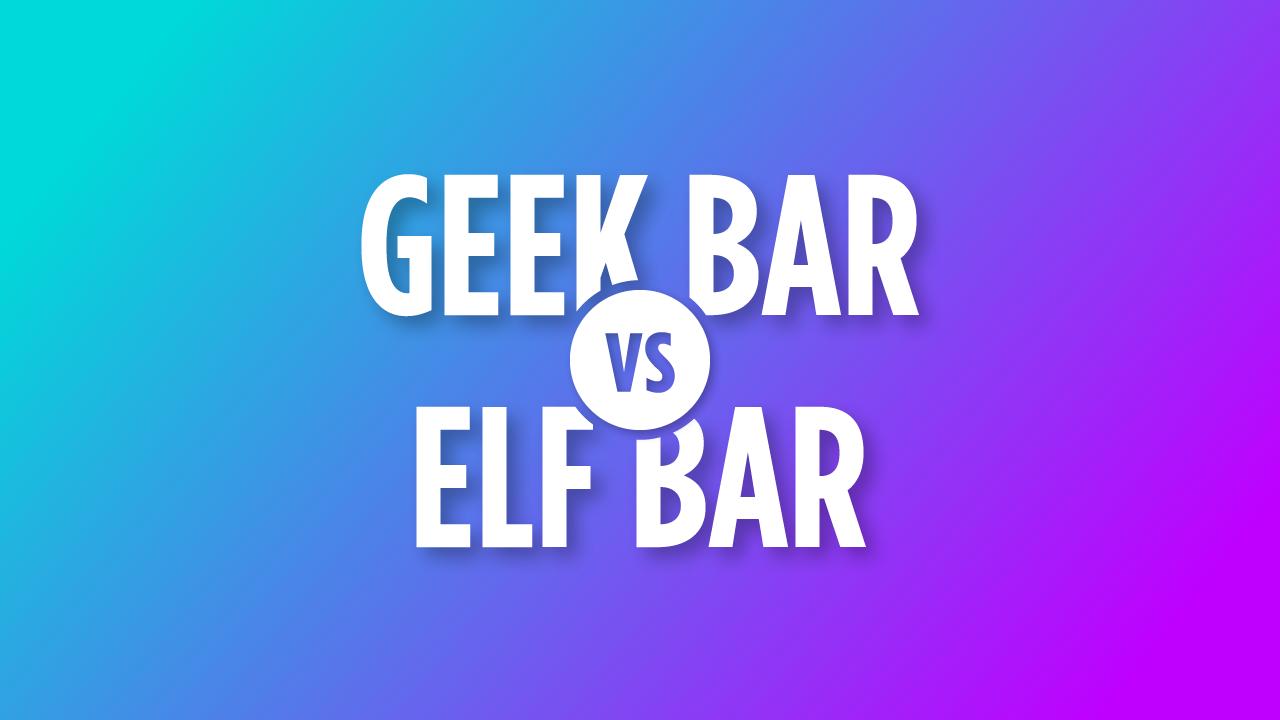 Geek Bar
In 2021, Geek Bar devices took the UK by storm. Not only providing an unbelievably convenient route to switch to vaping for smokers wishing to quit smoking, but these disposable vape kits have also proven extremely popular amongst vapers who prefer to vape high nicotine strengths.
If you'd like to read the best online review written exclusively for Geek Bars, check out our Geek Bar Review.
Elf Bar
Not long after Geek Bars became a household name, Elf Bar disposable devices entered the scene with great success. Elf Bars are often seen as the no.2 disposable vape product, but their popularity is rapidly increasing by the day.
If you'd like to read the best online review written exclusively for Elf Bars, check out our Elf Bar Review.
Geek Bars & Elf Bars
Like many disposable devices, the exquisite flavours available alongside the ease of use has proven to provide a great vape experience. These disposable vapes are perfect for a night out and a party favourite, especially as you don't have the hassle of carrying any e-liquid bottles or vape kits, and for ex-smokers, there is no need for a lighter. Just simply grab your disposable device and take a draw.
Both disposable devices - Geek Bars and Elf Bars - are made and manufactured in Shenzhen, China. They have a variety of similarities and differences and are both extremely popular, but which is better? Or rather, which is better for your lifestyle & preferences?
In this comparison article, we will be comparing the Geek Bar, Geek Bar Lite, and the Elf Bar 600. These are all TPD compliant products (containing no more than 20mg or 2ml). Unfortunately, the Geek Bar Pro and the Elf Bar 1500 both exceed legal limits for the UK; hence they are illegal and will not be covered.
Let's dive in.
Similarities of Geek Bar vs Elf Bar
In many ways, Geek Bars and Elf Bars are very similar disposable vape devices. They both contain a single-use battery, both pre-filled with 2ml of Salt Nicotine e-liquid, and they are both extremely portable, small enough to put in your trouser pockets or your handbag. However, the Geek Bar Lite has a slightly less e-liquid capacity of 1.8ml and slightly smaller.
As mentioned, both Geek Bars and Elf Bars have TPD compliant options, and they both contain 20mg of nicotine inside a 2ml capacity pod or less.
Nicotine Strength
All three devices, the Elf Bar, Geek Bar and Geek Bar Lite, all have a nicotine concentration of 20mg. The type of e-liquid used is a nicotine salt (instead of a freebase nicotine e-liquid) to ensure a smooth throat hit at high nicotine strengths.
Auto-Draw Activation
Both the Elf Bar and Geek Bar are draw-activated devices with no buttons. Both also support Mouth-To-Lung (MTL) style vaping.
LED Light
Both Elf Bar and Geek Bars feature LED lights. These are located at the bottom of the devices. The LED lights continuously light up when you puff, but they flash when they have run out to let you know to throw it away.
VG/PG Ratio
The pre-filled e-liquid has a VG/PG ratio of 50/50. This is the most common type of ratio and is perfect for MTL vaping, which mimics the experience of smoking traditional cigarettes. Thanks to its thin cloud production, the 50/50 ratio also allows you to vape discreetly if you wish.
Differences Between Geek Bars & Elf Bars
While both devices share many similarities, there are equally just as many differences between the two devices. From variations in puff counts to flavour options, each can appeal to different types of vapers.
Battery Size
The 550mAh Battery size in the Elf Bar disposable vape is slightly bigger than the 500mAh in the Geek Bar devices. Even smaller is the battery in the Geek Bar Lite, with a battery capacity of 350mAh.
However, it's important to note that the battery life will depend on the amount of time you spend vaping the device, just like any other battery-powered device.
Puff Count
The puff count is the expected maximum number of puffs you can take from the device before the e-liquid or battery runs out. The puff count on the Elf Bar is slightly higher than the Geek Bar and Geek Bar Lite.
Elf Bar Puff Count: 600 Puffs
Geek Bar Puff Count: 575 Puffs
Geek Bar Lite Puff Count: 400 Puffs
These puffs also vary on your own personal vaping style. Whether you enjoy short sharp puffs or deep long puffs, this will affect battery life and e-liquid drainage.
Mouthpiece
The Geek Bar disposable has a fully integrated mouthpiece. This makes it a very different disposable device compared to anything out there as it is part of the device itself; there is no visible separation of the mouthpiece and the body.
On the other hand, the Elf Bar has a mouthpiece that is manufactured separately from the body, but it is assembled perfectly. It has a notably comfortable thin mouthpiece that fits into your mouth well with its great ergonomic design.
Size & Dimensions
The Elf Bar is 25mm longer than the Geek bar and has a 22mm (oe) diameter. Most notably, however, the body of Elf Bar devices is circular, whereas the Geek Bar is rectangular with curved edges.
Elf Bar Dimensions: 130mm x oe23mm
Geek Bar Dimensions: 105mm x 23mm x 14mm
Geek Bar Lite Dimensions: 97mm x 20mm x 10mm
The Geek Bar and the Geek Bar Lite are designed in a single solid colour across the entire device, in a unibody shell. It is naturally the colour associated with the flavour for best representation. For example, the colour of the Banana Ice Geek Bar device is yellow.
On the other hand, the Elf bar has a multi-coloured body. All Elf Bars are designed to be black (the base, mouthpiece and main body), with text and design elements coloured to represent the flavour of the pre-filled e-liquid. For example, Blueberry will have hints of blue across the device.
Material
The Elf Bar has a smooth matte finish, which gives it that luxury soft-touch feel. On the other side, the Geek Bar and the Geek Bar Lite have a clear, smooth plastic coating around the Geek Bar, adding a shiny finish.
How many cigarettes are equivalent to an Elf Bar or Geek Bar
The puff counts and total nicotine intake of an Elf bar or a Geek Bar are equivalent to 2 packs of 20 cigarettes (40 cigarettes in total), making the disposable bars significantly cheaper as a nicotine product. However, like all vaping devices & e-liquid, Elf Bars & Geek Bars do not contain any tobacco or any of the 3000 harmful substances that a cigarette possesses.
Geek Bar Flavours vs Elf Bar Flavours
The flavours that these bars possess are very similar. Geek Bars focus on gorgeous fruit, ice-cool and mint blends. In contrast, the Elf Bars have drink blends alongside ice-cool flavours.
Geek Bar Flavours
Passion Fruit
Passion Fruit is a sweet and tart flavour that's ultra-smooth. It's a refreshing fruity vape, perfect for a hot summers day.
Peach Ice
Peach Ice is a mouth-watering flavour. This Geek Bar uses rich and sweet peaches, finished with an ice-cool finish.
Strawberry Ice-Cream
This is a huge favourite. It takes sweet strawberries mixed with thick, creamy ice cream. Perfect for a hot summers day.
Elf Bar Flavours
Blue Razz Lemonade
Blue Razz Lemonade is a popular flavour; it's a gorgeous blend of fizzy lemonade and Candy Sweet blue raspberry, perfect for an all-day vape.
Energy Ice (Red bull Ice)
This is a take on the popular energy drink that we all know and love. A very popular vape that will make you feel like you are sipping on the same drink.
Kiwi Passion fruit Guava
This flavour is a perfect medley of tropical fruits, beautifully blended together for an overall sweet vape; Tangy Kiwi, mixed with sweet Passion Fruit and Guava.
Elf Bar Prices vs Geek Bar Prices
Elf Bars and Geek Bars are generally available for the same price. However, with the Geek Bar Lite being a smaller device, it is slightly cheaper than the standard sized Geek Bar.
Elf Bars are available on IndeJuice individually or as a multi-buy deal. They are £5.99 individually, or you can buy 4 for the price of £17.95.
Geek Bars are available on IndeJuice for a price of £5.99 individually or as a multi-buy deal, where you can buy 4 for £19.95.
Geek Bar Lites are slightly cheaper, individually they are £4.99, or you can buy 3 for £12.95.
The Elf Bar, Geek Bar and Geek Bar Lites are all available on the IndeJuice site. Unlimited free one-day delivery is available with no minimum order within the UK. Whether you order one Elf Bar or a mix and match of multiple Geek Bars and Elf Bars, you will receive this the next day without paying a penny more.
So which is better: Geek Bar or Elf Bar?
Ultimately, vaping is an extremely personal choice for any vaper. Geek Bars are most definitely the more popular disposable device in the UK today, but Elf Bars are catching up very quickly because they are extremely similar yet beautifully different in their own ways.
So, as of today, the UK has definitely pointed to Geek Bars being the better disposable vape device. However, that could change very soon, which begs the question: are Elf Bars set to uproot Geek Bars from their throne?
If the comparisons above haven't swayed you to either device, then there's only one way to find out: Buy one of each, try them out, and decide for yourself.
Nicotine-free Elf Bars are also available at IndeJuice.